You can unblock a website on Google Chrome by ignoring the "unsafe" warning from Chrome, removing firewalls, or using a VPN. As many users are aware, not every site on Chrome is accessible to all. There could be several reasons behind it.
The website could be restricted in their geographical area or it might have been censored by the local government. In some cases, websites don't open due to an active firewall or a blocked IP address. Some websites don't open as the content is deemed sensitive or inappropriate for schools or workplaces. But most of these sites can be unblocked. One of the easiest ways to go around the issue is to browse incognito. A browser like Kingpin gives you complete private browsing on restricted sites as well as covers your tracks neatly.
So, if you are thinking 'How do I unblock a site' on Chrome, here is a step-by-step guide to help you:
#1. Ignore the 'Unsafe' warning by Chrome
Google Chrome tries its best to protect users from websites it thinks could be malicious. To this end, it issues a warning message when you try to access the URL. It reads something like 'Your connection is not private'. This gets displayed and the site does not open.
You can however reach it by choosing to overlook it. When you see this message, scroll down and click on Advanced. Then, click on Proceed to option next to it.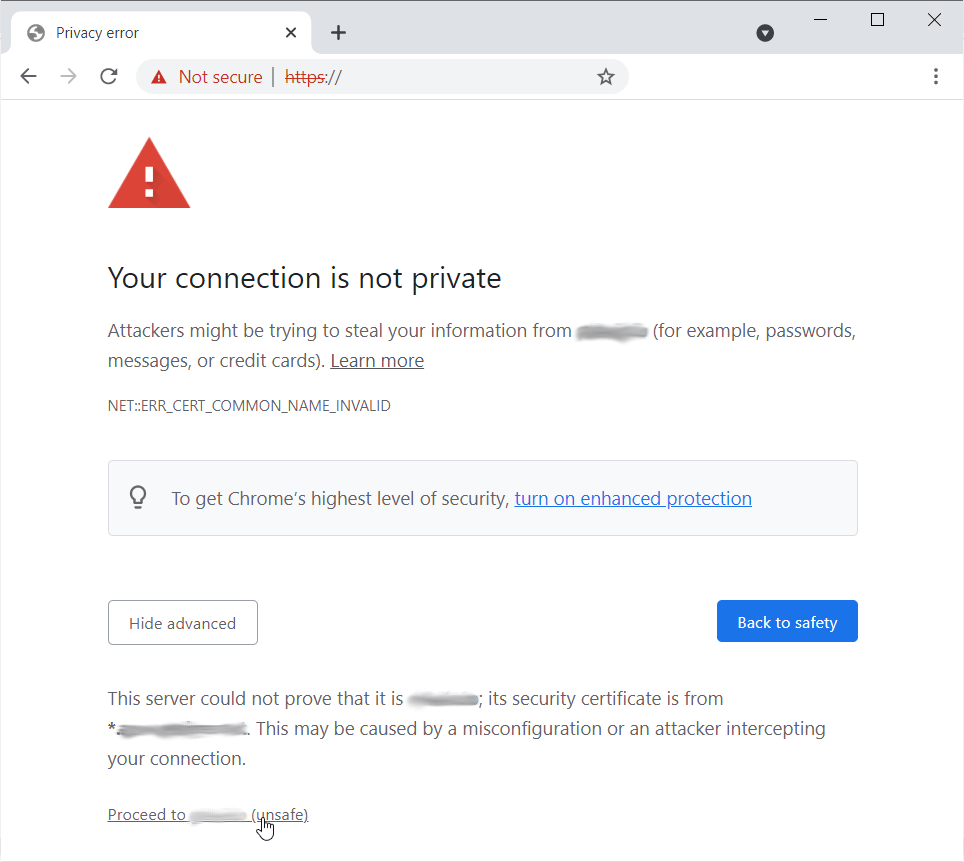 Chrome > URL > Your Connection is not Private > Advanced > Proceed to [website name]
However, a bit of caution is helpful. These sites frequently offload malicious software on users' systems. So, unless you have a rock-solid conviction of its safety, listen to Chrome.
#2. Check out the site from the list of restricted sites
You can check out the website from the restricted list to access it. The list can be found in the Internet Properties. So go to the Windows menu. That's the search box on the bottom left-hand corner of the screen. Type Internet Options and click on it.
Go to the Security tab and click on Restricted sites and then click on Sites. The list of all restricted/ blocked sites get shown. Find out if the site you are failing to access is on that list. If the answer is 'yes, you have to remove it. Mark your selection and click Remove. If you relaunch Chrome, you can hope to access this now allowed site.
Start > Search >  Internet options > Security > Restricted sites > Sites > Remove
It is always helpful to remember why the site was added to the restricted list in the first place. This will prevent any unpleasant virtual experience you might have to face later.
#3. Shift to a different browser
A surer and quicker way of accessing blocked sites is to go incognito. And you can go undercover when you are using an incognito browser like Kingpin. With a default private browsing mode, this browser not only helps you do sensitive things like transactions but also carefully covers your tracks. It achieves this by deleting session cookies. With the trail gone, marketers have a hard time snooping on you. Cache files are unlikely when you use Kingpin. Furthermore, extensions and pop-ups are disabled by default on this browser.
Apart from being light and lightning fast, Kingpin boasts of ingenious PIN protected tabs. Not only can no one see your browsing history, but they also can't even reopen closed tabs without PIN authorization from you. So, even if you are online from a shared computer, you can not only unblock restricted sites but also browse in peace.
#4. Modify the host file
Network Administrators can also block sites if the sites are not on their allowed domains. But you can change this too. However, you will require administrator consent. If you get it, modifying the host file is not that difficult.
Open File Explorer on your system, input the text 'C:\Windows\System32\drivers\etc', and press Enter. When the Host File gets displayed, you have to place a right-click on it. Then, go to 'Open with' and 'Notepad'.
Once the page opens, continue to scroll down till you see the following- 127.0.0.1 www.example.com. Remove this text completely and input the desired URL. Lastly, save the modified Host File.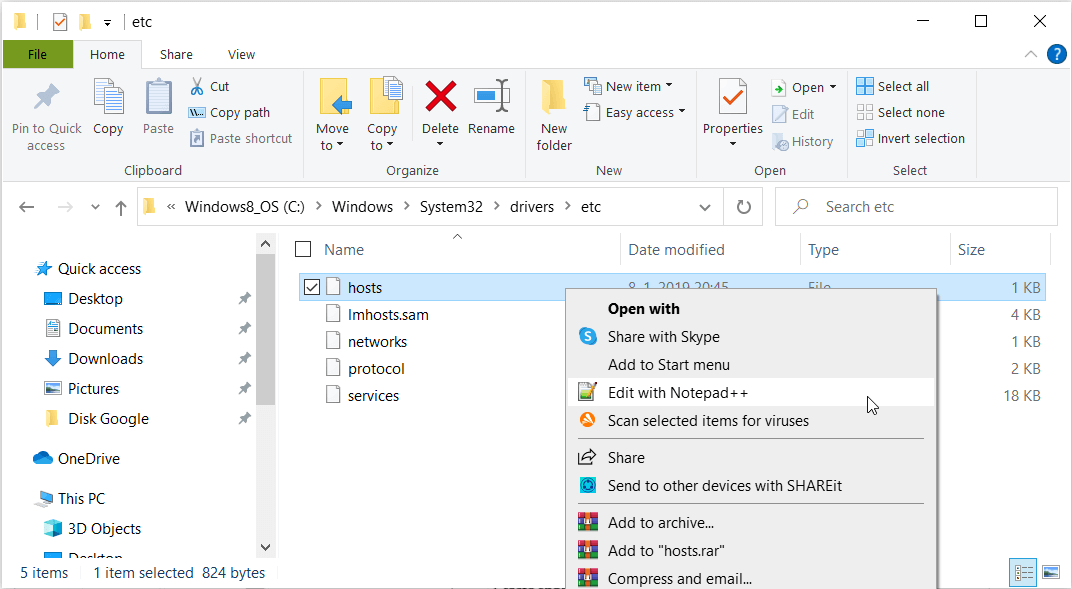 Like so:
File Explorer > C:\Windows\System32\drivers\etc > Host File > Open With > Notepad > 127.0.0.1 www.example.com > Save
This might look more complicated than it actually is but once you enjoy unlimited access to a previously blocked site, you would want to undertake to edit it again.
#5. Turn off the Firewall (with caution)
Your system carries a tool to protect itself from virtual threats – the Firewall. However, the Firewall may, from time to time, raise false alarms and classify safe sites as malicious. This will only serve to limit your browsing experience. To bypass this issue, users sometimes turn off the Firewall for the time being and turn it on again as needed.
To turn the Firewall off, first, go to the search box on the Start Menu on your computer. Then, type in 'Windows Defender Firewall'. Next, go to Turn Windows Defender Firewall On or Off. Finally, disable the Windows Defender Firewall. Just make sure you select the option for both private and public connections.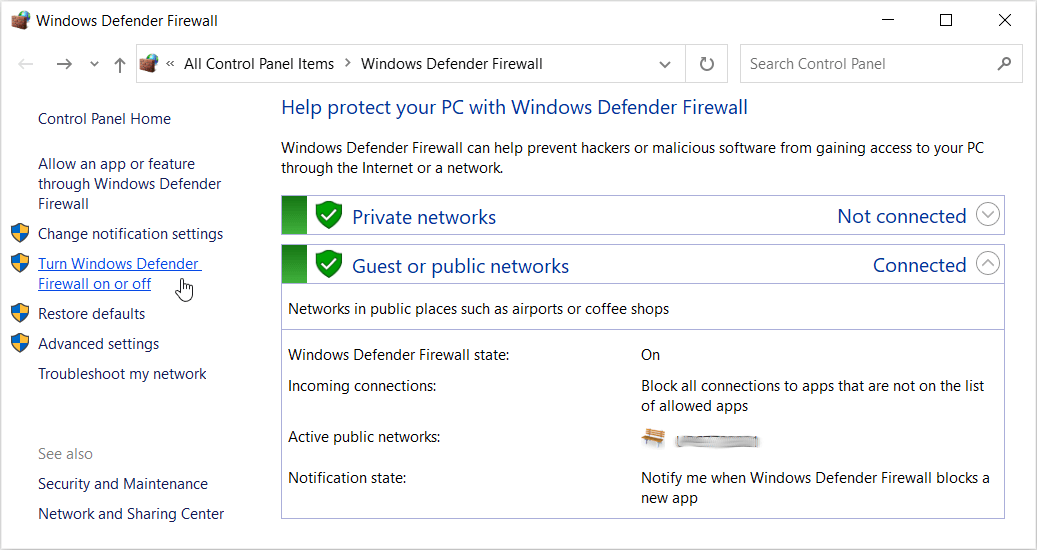 Start > Search > Windows Defender Firewall > Turn Windows Defender Firewall On or Off > Disable
A word of caution. As long as the Firewall stays down, your computer stays open to attacks from suspicious networks. So think twice before taking it down.
#6. Opt for a VPN
A VPN is also a possible solution. In fact, when you use a virtual private network, you really hide a lot of things about yourself while accessing restricted sites. While most VPNs are paid, you could find a few that offer an unpaid, limited-time trial.
Summing up
These days, accessing blocked sites is no rocket science. Users are trying out a lot of different methods to connect with target websites. From taking down the firewall to overriding Chrome warning, there are many fixes. If you are busy, try moving to a default incognito browser like Kingpin to enjoy unblocking sites and staying undetected virtually.